Lives of Service and Legacy Gifts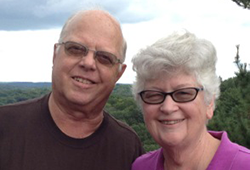 John and Robbie Mink's passion for the mission of Rosecrance spanned more than four decades.
In the early days their family volunteered with youth in the programs, including them in an afternoon community outing or a family-oriented activity. Over the years they have offered tireless leadership, generously donating their time, their talents and their treasure to further Rosecrance's mission, Help – Hope – Recovery for youth and families struggling with substance abuse and mental health issues.
So John's call to the Foundation to inquire about a charitable gift annuity was a natural way to establish a Mink family legacy honoring their passion for youth through a gift for the ongoing work of Rosecrance.
A charitable gift annuity is a contract between a donor and a charity. In return for a gift which the charity invests, the donor is guaranteed a fixed payment for life. The rate is based upon the age of the donor. The Foundation contracts with UM donors, invests the gift, makes the payments and provides tax information. At the end of the contract, the Foundation pays the remaining balance to the charity designated by the donor.
John and Robbie established two gift annuities in 2011, one for each of them. When John died last November, the remainder of his annuity, more than 90% of the original value, was distributed to the Rosecrance Foundation Endowment Fund. Robbie continues to receive payments from her gift annuity, and she continues to support Rosecrance and its programs. Her Methodist roots run deep through her church, Christ United Methodist in Rockford, and involvement with Wesley Willows as well as continuing to volunteer with Rosecrance.
Phil Eaton, President and CEO of Rosecrance spoke to John Mink's compassion for humanity and dedication to the mission of the agency.
"We learned from John how to love God, cherish family, help 'the least if these,' and serve our community. His memory will be with us every day in our work at Rosecrance on the course he helped to chart."