Peace & Justice Advocates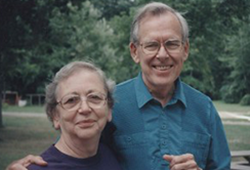 Long-time United Methodists Dick and Phyllis Tholin created a lasting legacy.
As Professor of Christian Social Ethics at Garrett-Evangelical Theological Seminary, Dick Tholin taught hundreds of future pastors to appreciate and understand the social and economic issues of the communities they would serve.
Reflecting on life in the local church after retirement, Dick said: "My days of church committee work are over. Instead I offer a ministry of presence and support at most every function at my church, the United Church of Rogers Park UMC."
When Dick passed away in 2019, hundreds of friends and family gathered at UCRP to celebrate his long life of ministry and presence in their community.
Phyllis Tholin is a long-time member of the Religious Coalition for Reproductive Choice. Phyllis champions women's issues by using her voice, her connections, and her actions for social justice.
Phyllis: "I continue my ministry 'in the trenches,' advocating for respect and acceptance of all God's children, fair trade, and equal opportunities."
One might run into Phyllis pricing items for the UCRP Thrift Shop, advocating for eco-friendly products, or distributing "I'm a Fan of Birth Control" paper fans to keep the issue in front of folks.
Their passion for ministries at UCRP prompted the Tholins to make a legacy gift through a two-life
charitable gift annuity
(CGA). This "life income" gift provides a guaranteed, fixed payment for life. Payments are not subject to fluctuations in the stock market or rising or falling interest rates. Upon making a gift through a CGA, there is a charitable tax deduction the year the annuity is established, and part of the annual payment is tax-free. At the end of Phyllis's life, the remainder will go to support the ministries of United Church of Rogers Park.